Cotton Baby Witch Dress CAT Design with Halloween Booties SOLD OUT
$

18.00
Sold out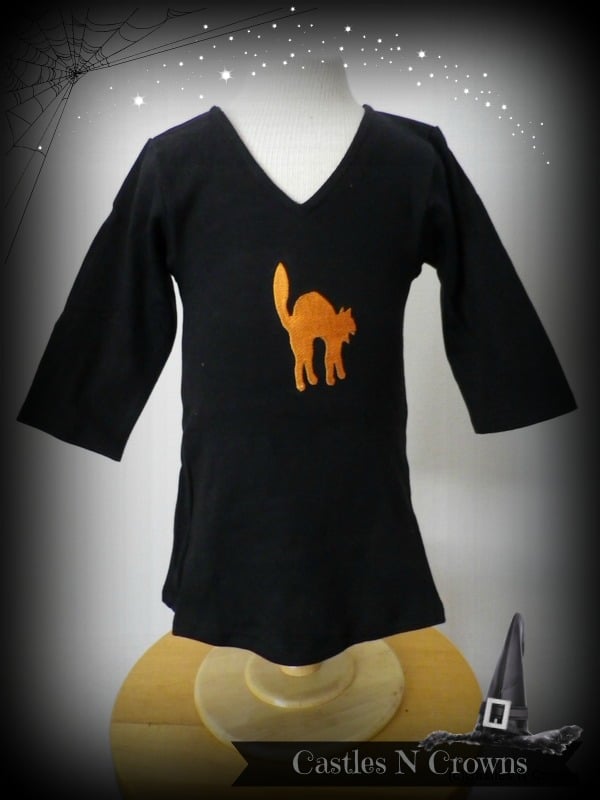 (ONLY 2 LEFT!) Baby Witch Dress: Cotton T-shirt Dress with Orange Cat embroidered on front, perfect as a Halloween Dress or for creating your own Baby Witch Costume! Included, non-stretchy booties (or order my cute orange and black striped stretchy knee socks, sold separately).
Witch Hat NOT included.
Fabric: 100% Cotton dress.
ONE SIZE: 0-6 months (fits most infants who wear 3-6 months, or even 9 months on some babies, due to the loose/comfortable A-line style)
Included: 2 pieces: Loose A-frame Dress Size 6 months, and one pair of 6 month Striped Booties. Booties are cotton and do not stretch.
Designed in Santa Barbara CA by a first-time mom.
Brand: Harrisons Halloween Costumes :: Cotton Baby Costumes (my own brand)
(Imported)
For Concerned Parents - Our Harrisons Halloween 100% Cotton Baby Costumes are one of the few Non-petroleum-based cotton fabrics on the market today.
Use CAUTION with all costumes. This cotton costume has Not been coated with flame retardant chemicals. Do not come in contact with Halloween pumpkin candles, and other open flames.
Though our Harrisons Halloween infant costumes are not organic, they are 100 percent cotton, and as a natural fabric, they are a great alternative to toxic pvc and dangerous synthetic petroleum-based baby costumes.
For cold weather, you may wish to add your own tights or pants.
FABRIC Dress and Hat:
100% COTTON: Machine Wash Cold, Tumble Dry Gentle. Allow for some shrinkage.
This is our own in-house brand: Harrisons Halloween Cotton Baby Costumes. Designed in Santa Barbara CA by a first-time mom. (Imported manufacturing)
© CastlesNcrowns, Harrisons Halloween Cotton Baby Costumes, and ི♥ྀ Tricia The Fairy Godmother ི♥ྀ 2005-present.